Venue
The Symposium will be held at the Wisby Strand Congress & Event, located in Visby, Gotland, Sweden.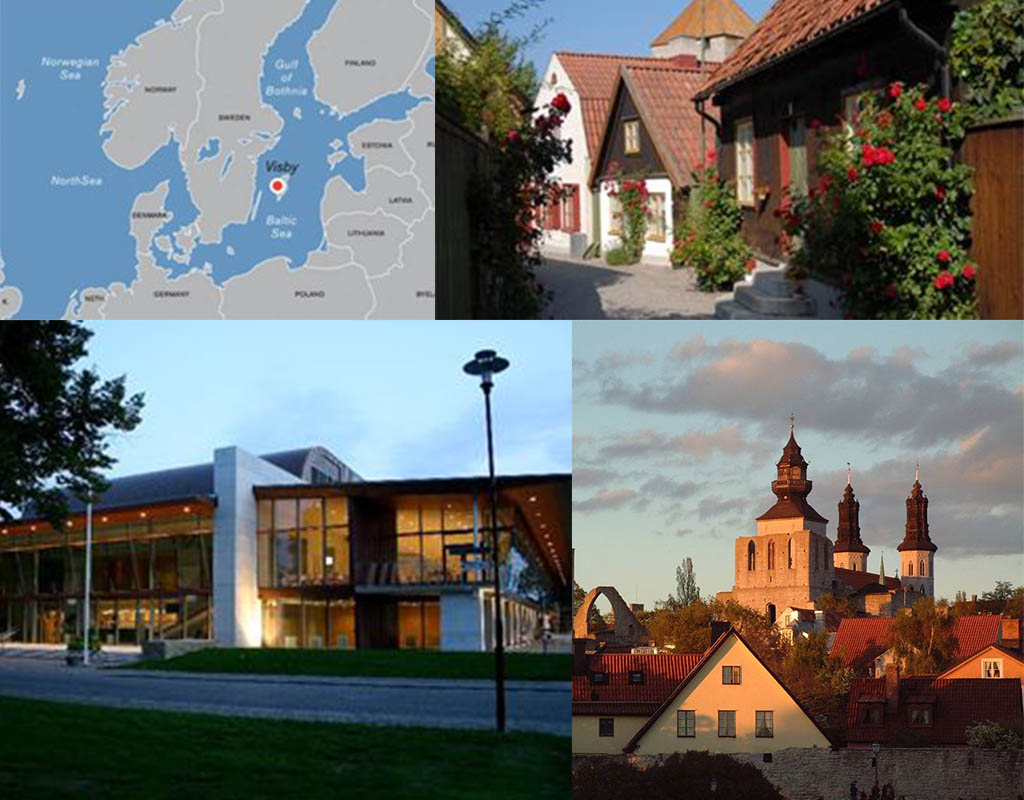 In the middle age the town was the centre of the Hanseatic League – a mighty trade network of 30 independent cities. Today, Visby is a living world heritage with people living and working in beautiful old buildings. Visby is an extremely well-preserved medieval city with a network of narrow, cobbled streets. The many ruins of churches and abbeys give Visby, the "City of Roses and Ruins", its unique charm. It has also a rich tradition of arts, crafts and is the most restaurant-intensive city in Sweden.
Technical Equipment
The lecture rooms will be equipped with a beamer (projector for PCs). Speakers are not allowed to use their own computer during their talks and should transfer their presentation (Microsoft Office compatible or PDF) to a computer provided for by the organiser. Internet access will be available to participants throughout the symposium
Requests for special equipment should be coordinated in advance with the Local Organising Committee (Stig Kemi, stig.kemi@sscspace.com)
Travel
The Gotland Island lies 90 km east from the Swedish mainland. It is easily reachable by plane from Stockholm Arlanda airport or Stockholm Bromma Airport.
Visby Airport is located about 3,5 km north of Visby and is the only commercial airport on the Island with almost every hour a flight from/to Stockholm.
Visby can also be reached by Ferry boat from the main land (Nynäshamn or Oskarshamn) in approximately 3 hours (http://www.destinationgotland.se/en/ferry)
Learn more at Visit Gotland (http://gotland.com/en)
More info at a later stage.
Hotels
Rooms have been blocked at two hotels in Visby from 11 to 16 June 2017 with favourable rates.
All bookings should be made as early as possible, not later than 27 March 2017 in order to benefit of the negotiated rates.
Reserve your hotel room while registering.
Events
Social Events (covered by registration fee)
A welcome aperitif will be offered during the registration until 20:00, on Sunday 11 June, at the Wisby Strand and Event center after registration. Registration will start as from 16:00.
There will be a "Ranges Night" on Monday 12 June after the end of the sessions where participants will have the possibility to share life experiences with the organisers (Esrange, Andoya Space Center, DLR MORABA and CNES). This event will take place in the Pavillion on the back side of the Clarion Wisby hotel.
A free of charges guided city tour will be offered on Tuesday 13 June after the sessions, starting at 18:00.
The Gala dinner will be served on Thursday 15 June at the Wisby Strand Convention & Event. Recommended dress code:  jacket & tie.
Optional Excursions
Optional excursions will be organized on Wednesday 14 June, in the afternoon, against a supplementary payment of 200 SEK. All these excursions will be followed by a two-course dinner included in the fee. Participants will make their selection, subject to availability, by registering through this website. All excursions will be on a first come – first served basis.
Option #1 (at 17:00)

– Västerhejde and surroundings (visit of medieval church Tofta, Fisherman's village Gnisvärd, demonstration of "Gutish multisport", scenic view from Högklint, Dinner will be served at Leva).

Option #2 (at 14:00)

– The tour goes to the east side of the island to the parish of Ardre. (Visit of medieval church, farm with more than 300 lambs, Cousin Dan's brewery, and demonstration of "Gutish multisport. Dinner will be served at Hamnkrogen Herrvik).

Option #3 (at 14:00)

– Southern Gotland/ Storsudret and surroundings, the lushest and greenest part of Gotland, with a varied landscape of both coniferous and deciduous trees, agricultural land and lovely beaches. (seaside walk in Fröjel, demonstration of "Gutish multisport" and the famous sea stack Hoburgsgubben. Dinner at Gra Gasen).

Option #4 (at 14:00)

– Excursion to Farö, the "magical island" (land of Ingemar Bergman, medieval church, Langhammars sea stacks, Fisherman's village "Helgumannen". Dinner at "Stora Gasemora").